If you've ever had the pleasure of passing a pressurized transport tank on the highway,you're probably flooring the gas to try and get in front of the massive B-Train or multi-axle trailer! But maybe just maybe, while cruising by or sitting passenger side you've noticed that these large transporting vessels have markings on the side of the tank.
Those letters and numbers actually provide important data about the safety of the cargo tank driving next to you. The markings disclose the relevant tests and inspections that tank has had completed and also notes the month and year such tests were conducted. By identifying the markings on the tank you can determine when testing and retesting of the vessel is required.
Before a pressurized bobtail or transport tank is allowed into service, it must be tested for structural integrity and leakage. The dates of these tests and other specifications about the tank and how it was built must be clearly marked on the vessel. A cargo tank may not be filled or transported if the required tests and inspections have not been completed by their due dates.
All tanks must be tested on a periodic basis to comply with the Canadian Standard Associations (CSA) B620. The CSA-B620 standard sets out the requirements for the design, construction, certification, assembly, modification, repair, testing, inspection, periodic re-testing, maintenance, and marking of highway tanks and TC portable tanks for the transportation of dangerous goods.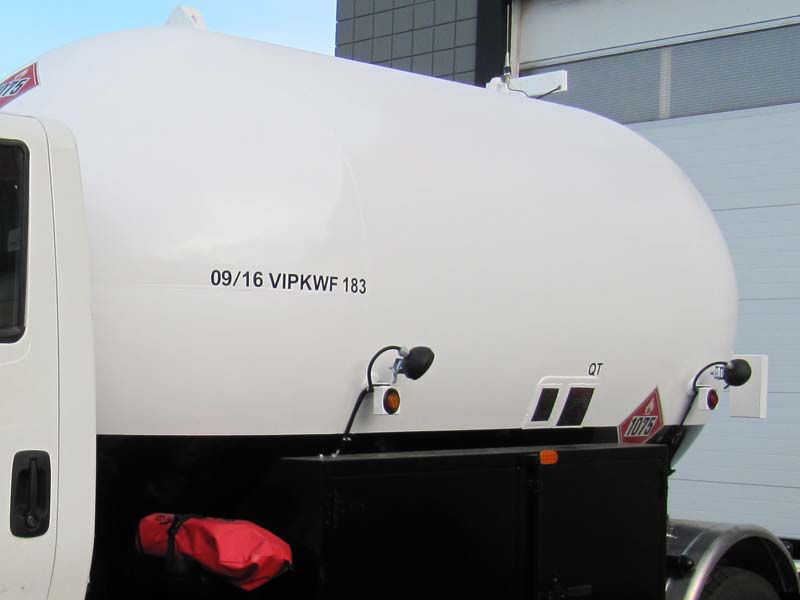 Listed below are relevant transport tank tests and inspections, their corresponding markings, and how often they are to be performed:
External Visual Inspection (V), annually
Internal Visual Inspection (I), every 5 years
Pressure Test (P), every 5 years
Thickness Test (T)
Lining Inspection (L)
Leakage Test (K), annually
Upper Coupler Area Inspection (UC), every 5 years
Wet Fluorescent Magnetic Particle Inspection (WF)
As an example, if you saw: 09/18 V I K P 123 marked on a tank, it would show that a visual, internal, leak and pressure test was completed on September 2018. The digits "123" would correspond to the last three digits in the Transport Canada registration number of the test facility.
It should also be noted that the type of tank in service dictates the tests that must be conducted. For example lined and unlined tanks in corrosive service must have an annual internal inspection.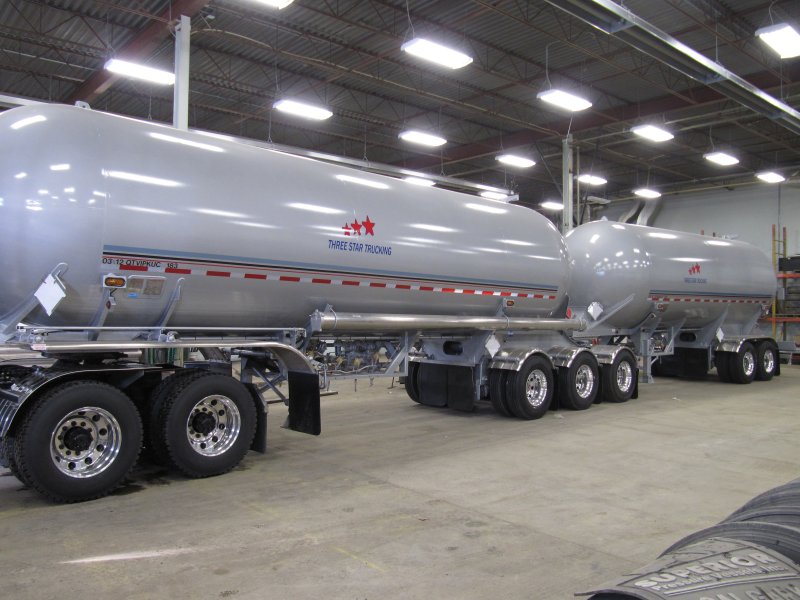 Only facilities that are registered with Transport Canada can manufacture, assemble, modify, repair or test tanks that are used to transport dangerous goods.
Superior Pressure Vessels Inc. is a certified provider of annual (M1) and 5-year (M5) inspections and tests for pressurized transport tanks and trailers hauling LPG, NGL and NH3 products on Canadian roadways. As a leading manufacturer of compressed gas transport tanks and trailers, we design, engineer and fabricate pressurized vessels, Bobtails, Multi-Axle and Super B Train Trailers.
Superior Pressure Vessels Inc. performs tests, re-tests and inspections in accordance with the Canadian Standard Association's (CSA) B620 and Transport Canada's Canadian Motor Vehicle Safety Standards (CMVSS) to ensure pressurized vessels are fit for service and safe to be on the road.
To learn more or book your next service, contact us today.